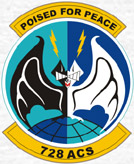 The 728th Air Control Squadron is a unique squadron with a mission different than any other squadron assigned to the 33d Fighter Wing. The 728th's mission is focused around providing air control (radar) services for combat air operations. Officially, the 728th provides a mobile, combat-rated, senior radar element of the Theater Air Control System for worldwide contingencies. Additionally the 728th provides combat and control of joint air operations by conducting surveillance identification, weapons control, battle management and theater communications data link.
Activated by the 9th Air Force commander on September 2, 1950 at Turner Air Force Base, Georgia, the 728th was stationed at Pope Air Force Base, North Carolina and Shaw Air Force Base, South Carolina before transferring to Auxiliary Field #3 (Duke Field) as a tenant unit on Eglin Air Force Base, Florida in 1994.
Since the squadron's creation, the 728th has received six Air Force Outstanding Unit Awards and has participated in several major command, U.S. Readiness Command and Joint Chiefs of Staff directed exercises and deployments throughout the world. During operations Desert Shield/Storm, the 728th fulfilled a vital role in the coalition effort while they were deployed to King Kalib Military City, Saudi Arabia. The 728th also participated in Operation Deny Flight, the suppression of flight activities over Bosnia, while deployed to Jacotente, Italy. Additionally, the 728th is known for its significant contribution to the fight against illegal narcotics in Central and South America and for supporting an ongoing rotation to Kuwait as part of Operation Desert Calm.
Currently, the 728th Air Control Squadron is part of the 33d Fighter Wing at Eglin Air Force Base, Florida, and is always poised and ready to provide a Control and Reporting Center in support of tactical air operations throughout the world. The unit reports to the 33d Fighter Wing Commander during peacetime but becomes subordinate to the 9th Air Force Air Operations Center during contingencies.